Upcoming Events
Continuing open summer forum: Thursdays, 7:00 p.m.

"Banking, FDIC: Money and finance"
Beginning discussions
All input from the public is requested.
We seek a vigorous discussion.
The regular Independent scholars will be guiding the discussion.
Thursday, October 30
Moline Commercial Club
1530 Fifth Avenue, Moline.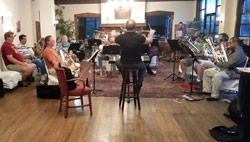 Doors will be open at 6:30 p.m.
ISE is held on 2nd. Floor of the Moline Commercial Club.
1530 Fifth Avenue, Moline.
The event is free and open to all.
Light snacks and wine, and beverages are provided.
A cash bar is available.
Facebook page: institutecht@gmail.com
Website: www.qcinstitute.org
Email: institutecht@gmail.com
or: qcinstitute@sbcglobal.net
Phone: 309-762-9202

Independent Scholars' Evenings are sponsored by
The Institute for Cultural & Healing Traditions, Ltd. A 501(c)3 organization under US laws since 1996.

Contributions may be sent to:
The Institute for Cultural and Healing Traditions, Ltd. 1530 Fifth. Avenue. Moline. IL 61265
All contributions are fully tax-exempt.

Please see our archives.



July's installment of the " River City Radio Hour" which will highlight jazz standards of varying styles and time periods, played by some of the QCA's best and brightest.

Ron Wilson - Bass
Eric Pobanz - Drums
Kyle Kunkler - Piano

Josh Forbes - Tenor Saxaphone

Social Hour @ 5:30p.m.
Dinner @ 6:30p.m.
Show @ 7:30p.m.

The Moline Commercial Clubs' Chef Joe Taylor will be serving a magnificent Gourmet International dinner prior to the show, by reservation only.

Please call 309-762-8547 to make reservation.
Elevator is at the 16th Street entrance.

Tickets for Dinner & Show: $20.00/person
*This event is open to the public and the audience can attend the show without dinner.

Ticket for the show: $5.00
Priority seating is given to guests who make dinner reservations.

Phoenix Hours: 6:00 p.m. To 8:00 p.m. Wednesdays through Saturdays, plus during events at The Moline Club Ballroom